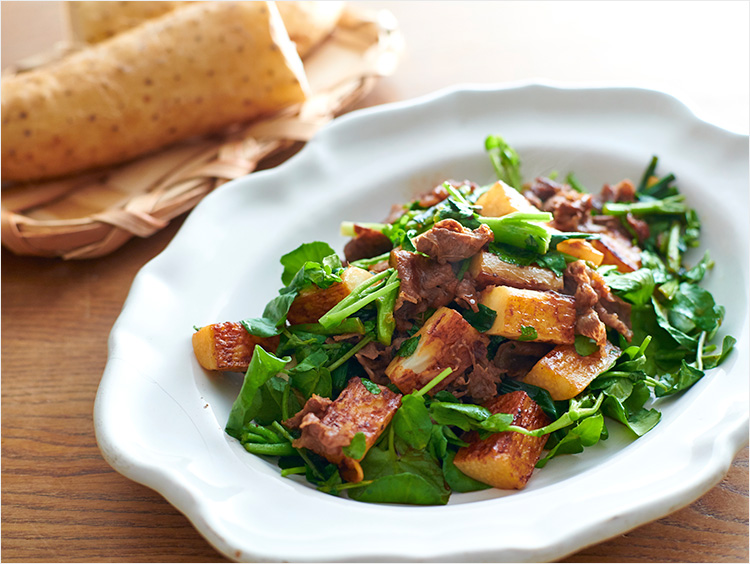 At home, chopsticks are often grated and grated. It's delicious to eat over rice or soba, but some people say "there are few repertoires of other dishes!" This time, we asked professionals about the idea of ​​making yam more delicious and widely used.
Mr. Yoshie Uematsu, a food researcher who specializes in cooking with seasonal vegetables, will teach me.
You can use it with the skin! Uematsu-san's tips on long-cooked potatoes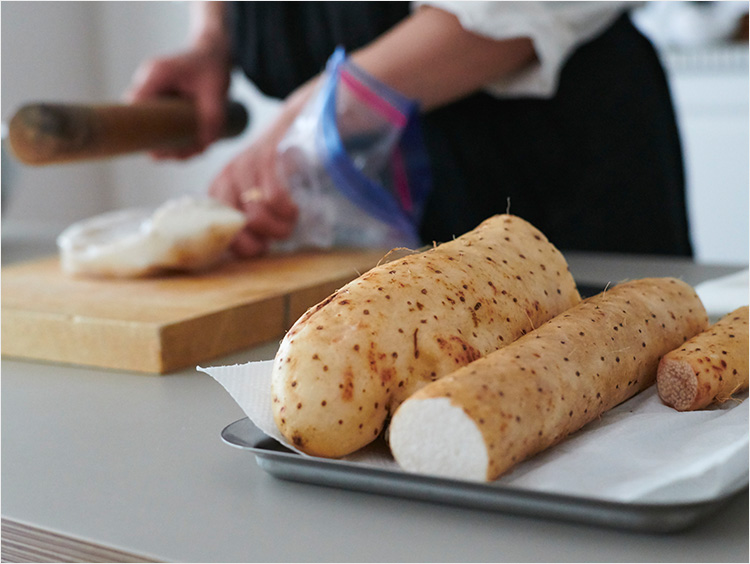 Hand-promoted potatoes tend to be shy and tend to be slippery and slippery. First of all, Mr. Uematsu taught me an idea to solve a little trouble related to Nagaimo.
① It is not necessary to peel long potatoes!
"You can eat long potatoes with the skin on them. If you have long potatoes with mud, wash them gently with a scrubbing brush, and if you have long-steamed potatoes that have been cut and cut, wash them first and then remove the beard roots. Cook it with the skin. Depending on your taste, it will be delicious because the potatoes will have a stronger flavor as the skin comes in. "
② Use a peeler when peeling!
"For dishes that you want to finish white, peeling is a good idea. Instead of holding the potatoes in your hand, you can put them on a chopping board to prevent slipping."
③ Don't touch with your bare hands when you grate!
"If you want to grate it or make it into small pieces, use a food processor or put it in a thick plastic bag and hit it from the top of the bag so that your hands do not itch."
Let's actually look at the food.
Deep-fried potatoes, green laver, and sardines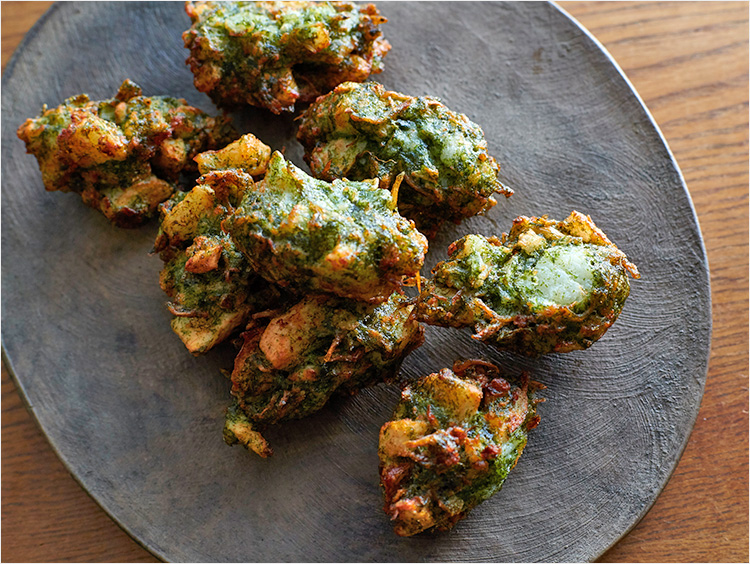 A fried dish that you can enjoy the chewy texture of potatoes that are used with the skin. Since the potatoes are put in a plastic bag and beaten, you do not have to worry about itching your hands. When you eat a bite, the flavor of green laver spreads over your mouth, and the saltiness of chirimenja tightens the whole. It's a snack that makes your hands stretch out.
"Since chopsticks have a lot of water, it tends to become loose when grated. It's important to hit roughly moderately to leave a texture. The frying oil does not get dirty, so after frying, other frying with the same oil is done. It's also possible to make it. It's good as an appetizer for sake, and it's delicious when chilled, so it's also recommended as a side dish for lunch. "
(3-4 people)
Chinese yam … 300g
A
Green laver … 2-2 tbsp and 1/2
Flour … 2 tbsp
Chirimenjako … 15g
Salt … 1/2 to 2/3 tsp
Deep-fried oil … appropriate amount
1.≪Use long potatoes with the skin on. After washing well, wipe off the water with a paper towel, remove the beard roots, and cut into pieces. Put it in a thick plastic bag, remove the air, twist the mouth of the bag lightly, and hit it with a rolling pin etc. to crush it roughly.
2.In a bowl1, Add A and mix.
3.Heat the frying oil to 170 ° C,2While using 2 spoons, put them together into 12 equal parts. Fry for about 2 minutes until the surface turns golden brown.
Stir-fried soy sauce with chopsticks and beef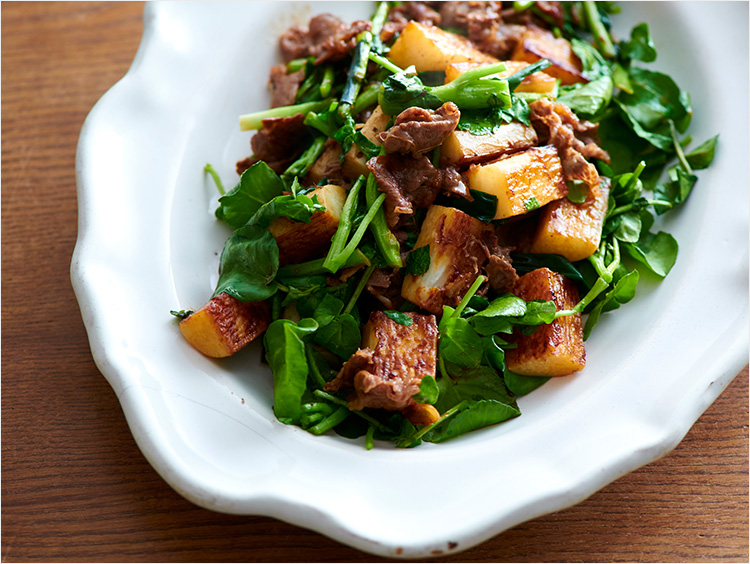 Stir-fried ones that you can enjoy the soft texture of long potatoes. The sweet and spicy taste is appetizing. The taste of beef and the spiciness of watercress are added to the long potatoes, the surface of which is fragrantly baked, and the deliciousness that doesn't stop!
"We seasoned light potatoes with butter soy sauce and finished it with a side dish that goes well with rice. Instead of watercress, it's also delicious to use celery, freshly boiled green asparagus, silk pods, etc."
(for 2 people)
Nagaimo … 200g
Beef chopped meat … 150g
Watercress … 2 bundles
Allium … 6
A
Soy sauce … 1 and 1/2 tbsp
Oyster sauce … 1 tsp
Butter … 1 tbsp.
Olive oil … 1 tsp
1.≪Use long potatoes with the skin on. Wash thoroughly and wipe with a paper towel to remove the roots. Cut into 3 to 4 cm length, and then cut vertically into 6 to 8 equal radii.
2.Cut large beef into pieces that are easy to eat. Cut the watercress and alliance into 3-4 cm lengths, and save the watercress leaves.
3.Put olive oil in a frying pan and heat over medium heat,1Bake without moving much. When the whole surface has a savory brown color, turn off the heat and spread the beef, add the versatile green onion and watercress stalks and stir on medium heat. When the color of the meat changes, add A and stir-fry. When the juice dries, turn off the heat and add watercress leaves and let them mix.
Ethnic soup of grated yam and ground pork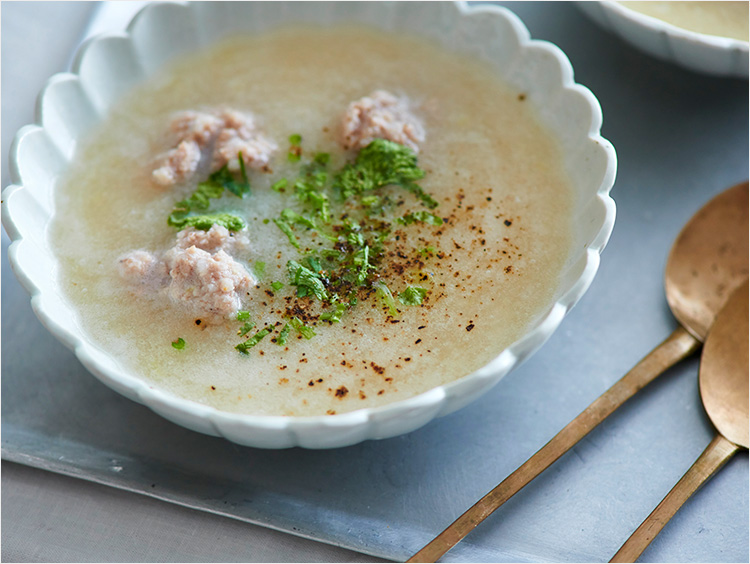 A pure white soup with a delicious taste. The thick texture of grated long potatoes gently brings together the whole thing. The flavor of ginger and nampura gives a nice accent, so you can eat it even when you don't have an appetite.
"I arranged" Shimoyama potato soup, "which is often eaten in the southern part of Vietnam, with long potatoes. I want to finish this dish white, so the potatoes should be peeled before cooking. This time the potatoes will be smooth. I grate it, but if you like, you can leave it with a rough texture. "
(3-4 people)
Chinese yam … 300g
Ground pork … 150g
A
Sesame oil … 1/2 teaspoon
Salt … a little
Water … 4 cups
Ginger (grated) … 1 slice
Nampler … 1 and 2 tbsp.
Coarse ground black pepper, Pakchi leaves (for each taste) … Each amount
1.Peel the potatoes and grate until smooth with a food processor.
* Similar to "Deep-fried potatoes, green seaweed, and dried sardines," you can put them in a thick plastic bag, remove the air, gently twist the mouth of the bag, and crush it with a rolling pin or the like.
2.Put ground meat in a bowl, add A and knead well.
3.Put a small amount of water in a pan and heat over medium heat. When it boils2Put them into a bite-sized dumpling with your fingertips.
* If there is an appropriate amount of sautéed Pakchi root (excluding ingredients) and boil it together, the flavor will improve.
Four.When the color of the meat changes1Add to a boil, turn to low heat and simmer for 2 to 3 minutes. Add ginger and nampler to taste. Place in a bowl, sprinkle with coarsely ground black pepper and chopped Pakchi.
An idea recipe where you can enjoy different textures of long potatoes. All of them are easy to make with few materials. If you are uncertain about the side dish tonight, definitely try the Chinese yam dish.
Yoshie Uematsu
A cooking researcher who specializes in cooking using seasonal vegetables. Making vegetables is my life work, and I send out ideas about food and lifestyle that are close to the season.
In addition, the cuisine that incorporates the essence of various countries from around the world, which is created from the experience of traveling domestically and internationally and experiencing many food cultures, is also popular. He has authored many books such as "Basquebar Recipe Book" (Seibundo Shinkosha) and "Spring Summer Autumn Winter Regular Hospitality" (KADOKAWA).